Looking to enhance your Dynamics 365 platform skills and connect with experts in the field? Then look no further than the Directions North America 2023 Conference, taking place from April 16-19 at the Hyatt Regency Grand Cypress in sunny Orlando, Florida.
This conference is created by partners, for partners. It's designed to bring together the best and the brightest developers, implementers, technical experts, sales representatives, and executive/owner representatives from Dynamics partners, ISVs, Service Providers, and Microsoft across North America and beyond. By attending Directions North America, you'll have the opportunity to network with your peers, learn about the latest trends and best practices, and gain insights on how to boost your business with the Dynamics 365 Platform.
With its focus on Dynamics 365, Directions North America is the perfect opportunity to take advantage of the numerous Dynamics-focused tracks and workshops that are offered at the conference. By attending these sessions, you'll receive cutting-edge training that will help you enhance your business and give you a competitive edge in the marketplace.
Last year, Petar Miljković's (GoPro, CEO) presentation focused on how GoPro helps clients increase sales, improve customer relationships, and enhance operations using the Microsoft ecosystem. He also shared his views on the changing nature of the workforce, highlighting why juniors are the new seniors. Additionally, he showcased the benefits of Dynamics 365 Business Central and presented a new, more efficient implementation process that can be completed in less than 3 weeks.
Even though Petar won't be speaking this year, attendees can still connect with him and learn more about his presentation from last year. As the CEO of GoPro, Petar has a wealth of knowledge and experience in the industry, and he's always eager to share his insights with others. So if you're interested in learning more about his previous presentation or discussing how GoPro can help your business, don't hesitate to reach out to him at the event.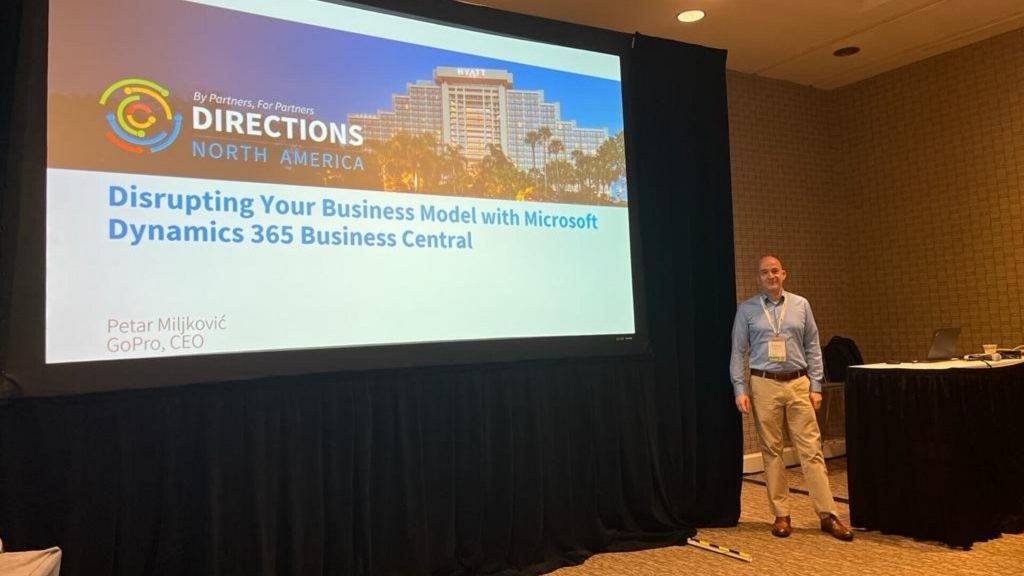 In addition to the many educational opportunities, Directions North America also offers numerous chances to network and connect with others in the industry. From casual meet-and-greets to more structured events, there are plenty of opportunities to exchange ideas, build relationships, and learn from others.
Attending the Directions North America 2023 Conference is a smart investment for any company looking to grow and succeed in the Dynamics 365 ecosystem. It's an opportunity to learn from the best, connect with peers, and gain insights that will help you achieve your business goals. So what are you waiting for? Register now and join us in sunny Orlando for this can't-miss event!