ERP SOLUTION
Microsoft Dynamics 365 Business Central (NAV)
A superb and flexible business solution tailored for small and medium companies.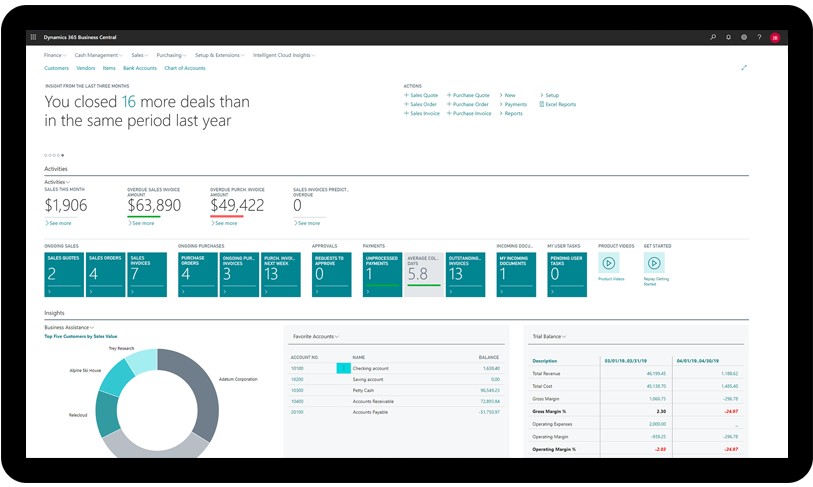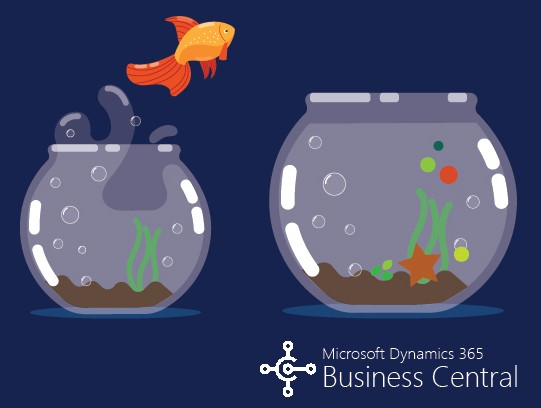 In the era of digital transformation, constant changes have become the standard in the business. A major evolution is underway in almost all industries. The most successful companies are already reaping the benefits of these developments by expanding to flexible cloud platforms. This is achieved among other things, by meeting the requirements of customers in real-time collection of comprehensive and complete data, analyzing results using business intelligence, and responding to customer requirements with sophisticated automation in the business system.
Microsoft Dynamics 365 Business Central is the latest Microsoft ERP system. Business Central offers new value through integration with other Microsoft cloud services, including Office 365, and can be customized or expanded to meet industry-specific needs with PowerApps, Microsoft Flow, and Power BI. This ERP system is a unique, rounded solution for financial management, operations, sales and customers, warehouses, and production as well as the opportunity for easy transfer from the program for accounting and ERP systems obsolete.
The bottom line is that with Business Central we have the opportunity to:
Take advantage of the non-stop available ERP system
Make it easy for users to work in a familiar, intuitive environment that makes you feel like you're in an Office package
We have a great advantage over our competitors because of our more efficient and faster operations
WHAT DOES THE MICROSOFT DYNAMICS 365 BUSINESS CENTRAL BRING NEW?
Microsoft has streamlined and beautified the user interface, it's clean, easy to navigate, easy to personalize, and offers powerful features like Excel integration in various views. Documents such as invoices, offers, etc. are based on Microsoft Word and are very easy to maintain.
One of the most effective improvements is integration with email through Outlook. When sending or receiving an email in Outlook, we can click on the Business Central icon to display information such as sales, open orders, etc. Integration with Outlook works in the desktop version of Outlook as well as in Outlook Web Access. We can execute a complete business process from start to finish without ever leaving Outlook. For example, a sales rep receives an email asking for a quote and can leave a message and send it without leaving the email. If the recipient responds and asks you to place an order, you can just click the email to place an order or invoice. This is a very powerful principle and we can expect it to become the "gold standard" in ERP systems very soon.
It also fully supports mobile work, whether it's Apple, Android, or Microsoft platform.
There is even free content with lots of pre-built reviews and reports.
Decision aid also works great in Business Central. For example, if we are preparing an offer to sell a particular item, if that quantity exceeds the available inventory, an alert is displayed. There is also a Power BI section that shows trends, historical data, and forecasts. To prepare the meetings, there is a Send to Powerpoint functionality that ensures that within the presentation we can drill down the data displayed directly to the source in Business Central.
Microsoft integrates business applications into Microsoft Dynamics 365, enabling companies to reduce the number of systems they use. This solves many of the challenges around better business process management, greater market success for those companies that use it, and much greater reporting and business intelligence capabilities.
Let us know how can Microsoft Dynamics 365 Business Central help you and let's create a bright future together.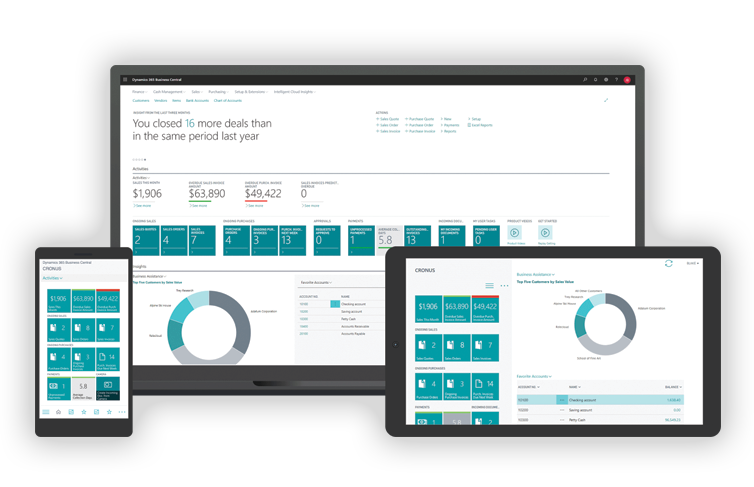 A business solution that offers small and medium companies, powerful and at the same time affordable solution that can be specially and flexibly adapted to the needs of the company and it will grow with it.
The best possible investment will provide the management and the employees with a powerful tool to conquer the demanding market and achieve a competitive advantage. The fast flow of information, automation, and improvement of business processes, powerful reporting system, and integral ERP solution, will help you to increase productivity to accelerate your decision making.
It offers adaptable options, additional functionalities, and the possibility of enlarging the solution.
As one of Microsoft's products, Business Central (NAV) also has the appearance and it functions like other products and technologies that working people already use in their everyday activities. A user-friendly interface that is well known requires a minimum of training, which reduces the costs, and on the other hand, users quickly accept the solution and all its benefits that they use.
WHY BUSINESS CENTRAL (NAV)?
Main reasons for implementing Business Central (NAV)
Business Central (NAV) provides better discipline and responsibility at work, demands conscientious and accurate work and it encourages communications and cooperation among the employees.
Integration of financial data and Increased productivity
Business Central (NAV) creates one version of realistic company business, which is not questionable because all departments use the same system.
Taking into consideration that the system is integrated, the need for administration is drastically reduced. Double data entering is completely eliminated.
Implementing best practices into your business
Because many companies successfully use Business Central (NAV), by implementing it, you will better organize your business and you will apply the world's best practices for many business processes.
Integration of business information
Centralization of all business information of the company makes it easy to track the results of business, coordination (functional synchronization) and in time synchronization of the manufacturing, warehouses, and distribution channels in different places.
Standardization and speeding up of business processes
Business Central (NAV) secures standardization. Using a single integrated, standardized system enables savings in time, increasing productivity and reducing the need for human resources.
Reducing stock level
Business Central (NAV) provides efficient manufacturing processes, without unnecessary delays, idle times, without tensions and conflicts. It provides better transparency in sales and purchase orders which will later result in decreasing the stock level of manufactured goods in warehouses and shipping ramps.
Increase the value of your company
Confirmation that one company is successful is that it uses a world-renowned information system that guarantees good organization, transparency, and quick access to information. All the information is in the system, so the company is less dependent on the employees who keep information in their heads. Also, standardized processes will make it easier for employees to change positions in the company.
BUSINESS CENTRAL (NAV)
Business Central (NAV) by Industry
Wholesale and Distribution, Manufacturing, Service, Retail, Jobs, Other services
BUSINESS CENTRAL (NAV)
Functionality of Business Central (NAV)
Marketing, Purchase and logistics, Inventory, Manufacturing, Service Management, Human resources, Payroll, Retail, Web Shop…
SPECIFICATIONS
Characteristics of Business Central (NAV)
The number of users speaks for themselves about the quality of the solution and possibilities of its use in different business systems and in different legal conditions. Program is constantly being developed since 1983 and thousands of engineers and specialists of different vocations have worked on it. Until now, Business Central (NAV) is present in more than 100.000 companies.
Microsoft puts a great effort to localize one global business solution. We can say that Microsoft Business Central (NAV) is the most localized global solution which is implemented in Serbia. Today, about 200 successful companies are using it. Business Central (NAV) is used in many countries and it's been translated in many languages. In the same company, employees can work in different languages and print out in different languages at the same time.
In comparison with other business software solutions in their class, only Business Central (NAV) has its own development environment, making it possible to add new fields in existing table, create a new table, even to modify the source code or make your own, and all of this inside rapid development environment.
"We have never encountered client's request which we were not able to solve and deliver in Business Central (NAV) with the help of our experienced development team, often with less costs and time spent then client expected. This comes from Business Central (NAV) rich set of functionalities and approach to source code inside the rapid development environment."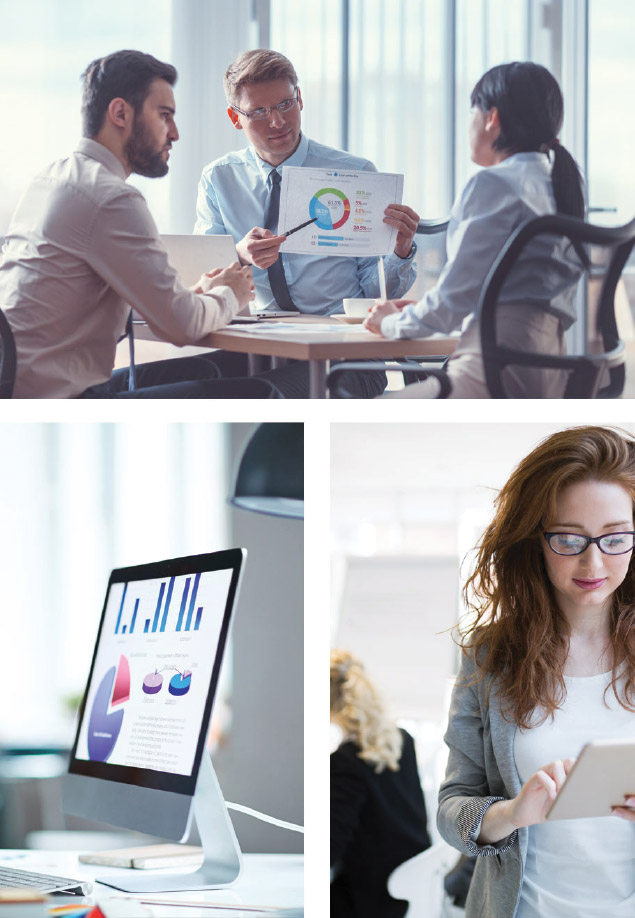 Rapid development environment enables:
Adding fields to any table
Adding tables
Defining links and relations between tables
Removing unnecessary fields in order to speed up data entry
Adjusting menus (Navigation pane) according to users and their roles
Adding program logic in order to automate solving of problems
Editing Business Central (NAV) source code
Editing Business Central (NAV) reports or copying and editing (without need to create from scratch)
Exposing any part of the logic to external programs through web services
Import/Export of data to/from any table and in any format .xml, .csv etc.
Synchronization of any table with any entity in MS Outlook
Business Central (NAV) brings many benefits like:
Replacement of many applications currently in use
Merging islands of information in a whole
Eliminating need to work in Excel, Access, or other databases
Replacement or integration with existing software for specific vertical solution
Replacement of previous software and eliminating the cost for its maintenance
Realistic return on investment through more efficient work
Integration with other systems
In our market, there is no solution that has such great capability of integration with other programs, as Business Central (NAV) has. GoPro has done quite a number of integrations.
Tools at our disposal include:
Data transfer (using xml, txt, csv, Excel)
Microsoft SQL
SharePoint
Web services and exposing any part of the logic to external programs
EDI
Biz Talk
Outlook synchronization of any table or entity
Synchronization with mobile applications (any table or entity)
Web site direct integration with help of many tools.
Simple usage
The user interface will allow rapid acceptance by the employees, because Business Central (NAV) is a Microsoft product, like Windows and Office which are used on daily basis.
DEVELOPMENT PROCESS
You've made the decision that you need a new information system. What's next?